you can purchase a recording on the Internet
digital albums www.rusnoise.bandcamp.com
CD & CD-r  Zhelezobeton label
New album Noises Of Russia "Humility"
about & reviews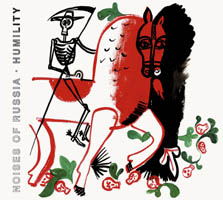 Noises Of Russia is one of the most active experimental
Russian projects performing electronic music. It was founded in 2000. It is an institutor and ideologist of international annual Noise vs. Glamour festival and Electroindustry label and Secret Assembly music events in which the different stars of Russian and foreign electronic music take part.
In its performances the Noises Of Russia project uses all modern music and stylistic imagery from dark ambient to drone but at the same time it remains faithful to traditional noise music. It creates sound canvas complicated with visual and verbal images, which are synthesizing in different ways during the creative process.  Every performance of this project is a new apologue about human destiny.
The style characterize as – apocalyptic experimental music. Critics name this style – mystical protoavant guarde.
Noises Of Russia asks to accept its musical and dramatic performances as the work with consciousness rather than the work with locomotor or digestive apparatus.
We will prepare you to death and will make music for your funeral!
articipated at the regional and international festivals, including:
Theatrical Olympiad
(Russia, Moscow 2000)
SKIF – 7, 8 multimedia festival
(Russia, Saint Petersburg, 2003, 2004)
Ethno Live music festival
(Russia, Moscow, Saint Petersburg 2002, 2003)
BULLDOZERfest music festival
(Russia, Saint Petersburg 2004)
AUTUMN EQUINOX multimedia festival
(Russia, Saint Petersburg 2004)
COLOURS OF BLACK music festival
(Russia, Moscow 2004)
NOISE vs. GLAMUR music festival
(Russia, Moscow 2004)
Autumn Marathon multimedia festival
(Russia, Saint Petersburg 2004)
Solo Dance Happening 5
contemporary dance festival
(Finland, Joensuu/Outokumpu 2004)
HEILIGE FEUER 5 music festival
(Russia, Moscow 2004)
CURRENT-FOTO 05 multimedia festival
(Russia, Moscow, Saint Petersburg 2005)
The Festival of Confusing
and Contemporary Music
(Joensuu, Finland 2005)
SPRING EQUINOX music festival
(Russia, Saint Petersburg 2005)
SKIF-9 multimedia festival
(Russia, Saint Petersburg 2005)
DIVERSE UNIVERSE multimedia festival
(Helsinki, Finland 2005)
TALAMUS 2 music festival
( Russia, Pskov 2005)
WORD & BODY contemporary dance festival
(Russia, Saint Petersburg 2005)
MEDGORAve 05 music festival
(Russia, Karelia 2005)
ARTCONCEPT 2 multimedia festival
(Russia, Saint Petersburg 2005)
BODY NAVIGATION contemporary dance festival
(Russia, Saint Petersburg 2005)
the EUROPEAN WOMENs THEATRE festival
(Tornio, Finland 2005)
THE MOSCOW ACTION
(Russia, Moscow 2005)
NOISE and FURY music festival
(Russia, Moscow 2005)
EASTERN EUROPE MUSIC CONVENTION
(Russia, Saint Petersburg 2005)
Solo Dance Happening 6 contemporary dance festival
(Russia, Saint Petersburg 2005)
NOISE vs . GLAMUR/vol.2-05 music festival
( Russia, Saint Petersburg., Moscow 2005)
TALAMUS 2 music festival
( Russia, Saint Petersburg 2005)
Kolina-Festival music festival
(Helsinki, Finland 2005)
VERSTAS 3
(Jyvaskyla, Finland 2005)
Twilight Zona: Enter music festival
(Ryazan , Russia 2006)
MILITARY DAYS music festival
(Saint-Petersburg, Moscow, Russia 2006)
RADIOINFERNO 4 music festival
(Saint-Petersburg, Russia 2006)
NOISY WOMEN music festival
(Saint-Petersburg, Moscow, Russia 2006)
SKIF 10 multimedia festival
(Russia, Saint Petersburg 2006)
IZOLENTA 06 multimedia festival
(Russia, Saint Petersburg 2006) 
Space Of Joy festival music festival
(Ukraina, Krim 2006) 
International Night of Arts music festival
(Helsinki, Finland 2006)
NOISE vs . GLAMUR/06 music festival
( Russia, 2006) 
STIMULYAZIA
( Russia, Arkhangelsk. 2006) 
AUTUMN multimedia festival
(Russia, Saint Petersburg 2006)
Strange Music World music festival
(Russia, Saint Petersburg 2007)
VERTICAL 2007 festival butoh-dance
(Russia, Saint Petersburg 2007)
NO FORMAT music festival
(Russia, Saint Petersburg 2007)
ACID POP BIRDS music festival
(Russia, Saint Petersburg, Moscow, 2007)
Bloodnok Killing Area music festival
(Russia, Saint Petersburg, 2007)
HarteTanze v.1. music festival
(Russia, Saint Petersburg, 2007)
Talamus 4 music festival
(Russia, Saint Petersburg, 2007)
Ivan Kupala Fucking Masterpiees music festival
(Russia, Saint Petersburg, 2007)
INTERFEST art festival
(Russia, Insterburg, 2007)
SOUNDARTLAB fest vol.1 music festival
(Russia, Kenigsberg, 2007)
Strange Music World music festival
(Russia, Saint Petersburg 2008)
Bomj-Glamour-Harsh-Fest
(Russia. St.-Petersburg. 2008)
St.-Petersburg-2008 Exhibition
(Russia. St.-Petersburg. 2008) 
CosmoNoise music festival
(Russia. St.-Petersburg. 2008)
Word and Body dance festival
(Russia. St.-Petersburg. 2008)
Systo Palty Togathering trance festival
(Russia. St.-Petersburg area. 2008)
Night of Museums festival
(Russia.St.-Petersburg. 2008)
Perf '08 perfomance festival
(Finland. Pori. 2008)
Noumen Art '08 art festival
(Russia. St.-Petersburg. 2008)
Khan Altay festival trance festival
(Russia. Mountain Altai. 2008)
INTERFEST art festival
(Russia, Insterburg, 2008)
Noise vs . Glamour '09 music festival
( Russia, 2009)
Electro-Mechanics audiovisual electronic art festival
Cyberfest 2009
(Russia. St.-Petersburg. 2009)
LAESKIFEST 09
(Helsinki. Finland. 2009)
Deboshirfilm cinema festival
(Russia. St.-Petersburg. 2009)
Fathers Day 09 art folk festival
(Russia. St.-Petersburg. 2009)
Colors Of Noise 09 music festival
(Russia. Moscow & St.-Petersburg. 2009)
Body Navigation '09 art festival
(Russia. St.-Petersburg. 2009)
MONOTRAKT 09 music festival
(Russia. St.-Petersburg. 2009)
Undercurrents vol.2 music festival
(Russia. Moscow. 2009)
Flowers Noise 'o9 music festival
(Russia. Moscow. 2009)
Underwater. VMF fest-2 music festival
(Russia. St.-Petersburg. 2010)
INTOUCH festival
(Belarusia. Minsk. 2010)
1 St. Petersburg Festival of Ritual Music
(Russia. St.-Petersburg. 2010)
Autumn Equinox festival
(Russia. St.-Petersburg. 2010)
Terijoki Festival ambient music vol.1
(Russia. Terijoki. 2010)
International Laboratory of Experimental Arts Noise and Whispers
(Russia. Kronstadt. 2010)
International Digital Cinema Festival IZOLENTA
(Russia. St.-Petersburg. 2010)
Consent and Purification music festival
(Russia. St.-Petersburg. 2011)
Cosmoport art festival
(Russia. St.-Petersburg. 2011)
Seven Lakes Fest music festival
(Russia. St.-Petersburg. 2012)
Prophetic Moss music festival
(Russia. St.-Petersburg. 2012)
NOISE POLLUTION fest vol.4 music festival
(Russia. St.-Petersburg. 2012)
Вещий Мох music festival
(Russia. Ladojskoe ozero. 2012)
Neformat Electronica music festival
(Russia. St.-Petersburg. 2012)
Là-bas biennale art-festival
(Finland. Helsinki. 2012)
Analogies Post-Soviétiques music festival
(France. Paris. 2013)
FULLDOZER FEST music festival
(Russia. St.-Petersburg. 2013)